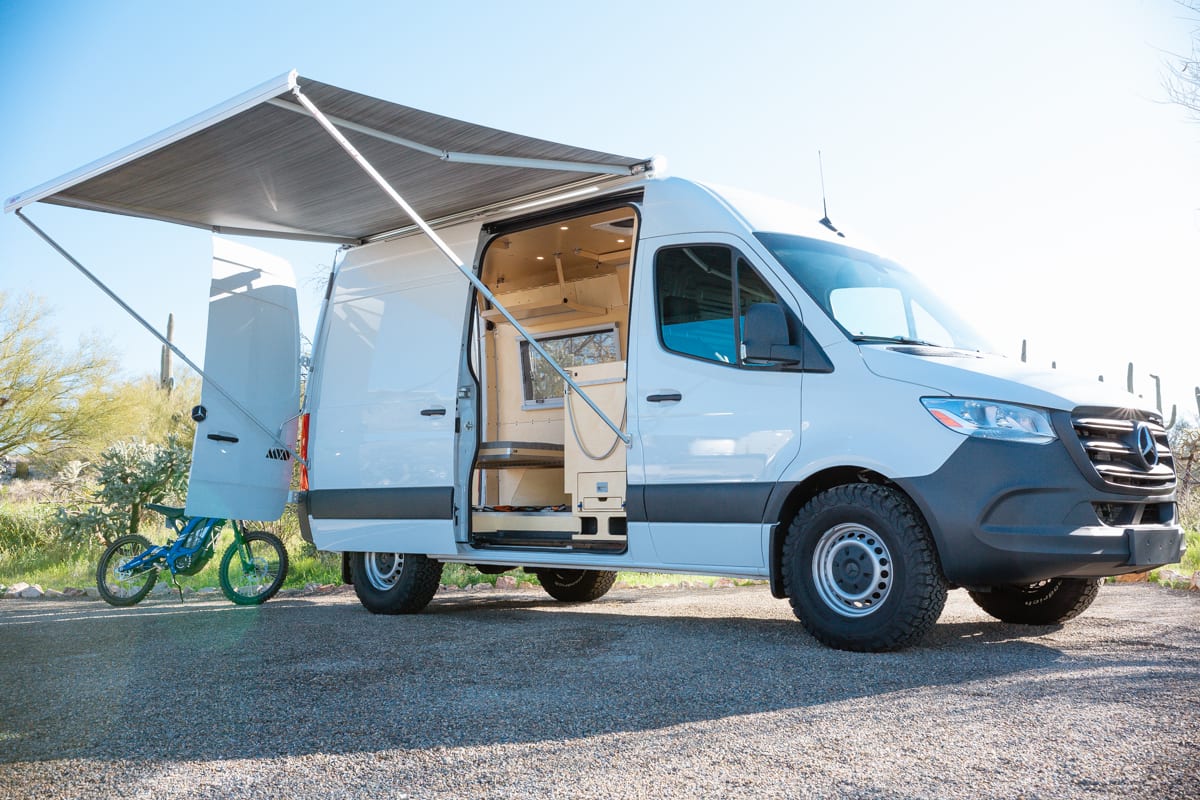 MH-144 2WD
With it's flexible utilitarian design, the Minimalist series are well suited for commercial needs as well as backcountry exploration. The MH144 is built on a 2019 Mercedes Benz Sprinter platform in 2WD.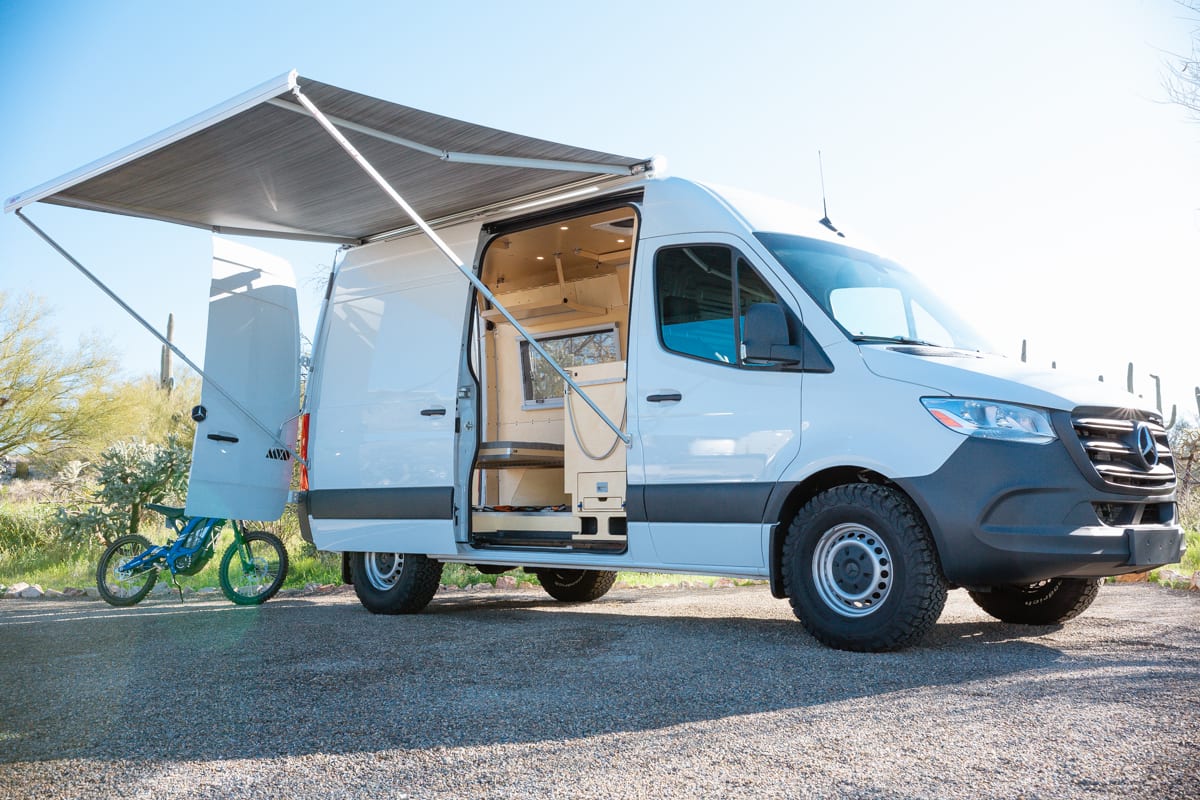 Load. Haul. Ride. Sleep. Repeat.
Got a lot of gear to haul? Want the ultimate moto van? Appreciate smart utilitarian design?
The MH-144 is our most customizable design, capable of hauling heavy gear, motorcycles (or a quad) or whatever specialized gear you need to haul. Once you get here, it transforms into a comfortable living space outfitted with commercial power systems and a modular interior that maximizes storage capacity.
340W Kyocera Multicrystal 340 Watt PV Solar Panel
Kyocera 340 Watt Solar Panel Fixed Frame KU340-8BCA is the first manufacturer to pass rigorous long-term tests. The Kyocera Solar modules are resistant to weather and provide long-lasting performance. 
Samlex 2200 Watt 120V Inverter
Pure sine wave inverter, adaptive battery charger, transfer relay – All in ONE unit. Samlex EvolutionTM Series inverter/chargers provide reliable AC power wherever it's needed. For use with boats, RVs, cabins and specialty vehicles, as well as alternative energy, back-up and emergency power applications.
Using state-of-the-art technology, the Samlex EVOTM inverter/charger operates at 165 million instructions per second with lightning fast load & response times, has 9 points of physical protection monitoring (being scanned up to 10,000 times per second) to detect fault conditions & protect itself in a vast range of adverse environments.
Morning Star ProStar MPPT Solar Charge Controller
The ProStar MPPT™ is a mid-range MPPT solar charge controller with TrakStar Technology™ that provides maximum power point tracking (MPPT) battery charging for off-grid photovoltaic (PV) systems up to 1100 watts. Available with and without advanced built-in meter. This device is ideal for industrial and residential applications. A Wire Box accessory to reduce hazards associated with exposed wires and connections can be purchased separately.
400 Amp-Hour, 12V Battery Bank
400 Amp Hours of 12V Battery power means you'll never deplete the system. With an integrated 340 watt solar panel and shore power connectivity, recharging your van is a breeze.
Slide Out Galley Kitchen
A unique concealed galley kitchen incorporates a propane burner stove and sink, storage and cutting board into a single heavy-duty slide. With 15 gallons of fresh water on-board, you'll enjoy simple prep, hot meals and easy cleanup under the cover of the included Fiamma F65s awning.
Dometic CFX-28 Fridge
Between the driver and passenger seats is a conveniently-located Dometic CFX-28 Fridge. Keep it up front for long-hauls, or move it back to the campsite or the van with quick access 12v power or 110v AC via the Samlex 2200 inverter.
Fold-Away Overhead Bins
The key to a functional van is flexibility. Any van-dweller will tell you tales of bruised foreheads from poorly-placed cabinets. In the MH-144 , you'll be able to fold away bins when not in use for maximum open space and cargo room in the van.
Arctic Tern Dual Pane Windows
Mountain View Adventure Vans maintain a stealthy exterior appearance without sacrificing comfort. Outfitted with a pair of Arctic Tern dual pane windows (the industry gold-standard), you'll have integrated privacy and bug screen options for instant configuration for any situation.
Twin/Queen Dual-Position Bed
This van has a double folding bed design that can be configured as either a twin or a queen-sized bed. When configured as a twin, there is an isle to the side that allows the user to set up a folding a Lagun table for eating or working. The bed can be folded against the side of the van to allow full usage of the cargo area.
A Multi-Function Tool
A true adventure van is like a swiss-army knife: A well-thought out, compact tool with a million uses. When we designed the Minimalist-series, we sought to build the ultimate, adaptable tool for adventure travel.
Connect with Us
STOW AND GO
"Our vans are built for doers: They are for people who want to bring their gear with them and be comfortable with no hassles. They want a van that let's them bring their life outdoors and enjoy it."
Ruth Conser